Top 10 beaches in Hong Kong
2014-08-02
Hong Kong isn't all banks and skyscrapers. There are plenty of great beaches to swim, sunbathe, surf and windsurf on, says Vaudine England – and don't be put off by the shark nets.
No.1 Cheung Sha Beaches, Lantau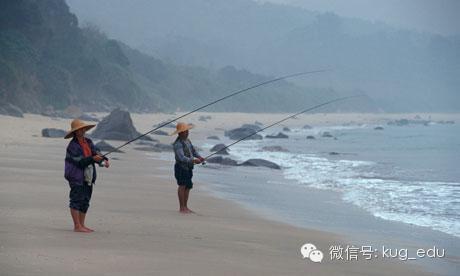 Most visitors to Lantau Island aim for the orderly sands of Silvermine Bay, the closest beach to the ferry port at Mui Wo, but better swimming can be had along Lantau's southern coast at Upper and Lower Cheung Sha Beaches. These are the longest stretches of sand in Hong Kong, ringed by peaks and, closer by, South African restaurant The Stoep, and High Tide, a Thai-Chinese eatery where most of the ingredients are grown in its garden. Just beyond Lower Cheung Sha Beach is Tong Fuk, another fine stretch of wild sand and sea edged with rocks.
• After getting the ferry from Central to Mui Wo, take buses 1, 2, 4 or A35 along the South Lantau Road.
No.2 Tai Long Wan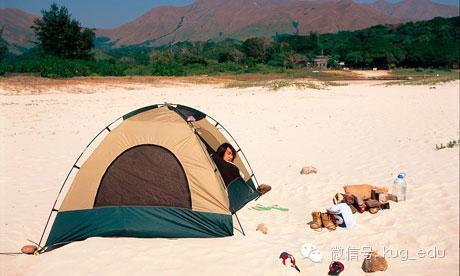 Pristine sands, decent waves, fresh (and sometimes dangerous) currents, all amid stark beauty and tree-clad outcrops… It's hard to believe you're in Hong Kong at Tai Long Wan. Sharp Peak rises in the distance and several islands can be seen out to sea, but the main attraction here is the big water, drawing overnight campers and surfers most weekends, but mostly deserted during the week. Be warned: you are not, officially, supposed to swim here. In Hong Kong government-speak, these beaches are not "gazetted", thus not supervised by lifeguards, but even without getting wet these beaches are special and well worth the trek to reach them. On a good day, one of the four cafes might be open and a surfboard for hire, but bring your own water and take away your rubbish away with you.
• From Sai Kung bus terminus, take bus 94 to Pak Tam Au and then follow the MacLehose Trail eastwards to Ham Tin Beach at Tai Long Wan. The walk takes about 90 minutes.
No.3 Turtle Beach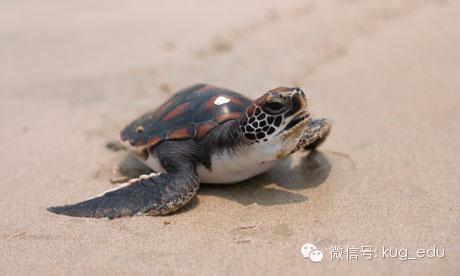 A hidden cove closed to visitors for half the year so that turtles have a chance to nest, access by foot involves an hour or so of walking along the southern side of Lamma Island, but junk trips sometimes moor out in the bay and swimmers can dive in. If you meet anyone, it will be a surprise. At Turtle Beach itself, a small curving bay offers little shade but lots of isolation and peace and quiet – rare commodities in Hong Kong. Even if it is turtle nesting season, you can soak in the atmosphere, walk around the turtle-watching cottage, and lie back on ochre-hued rocks over the bay.
• Take the small wooden ferry from Aberdeen waterfront to Mo Tat Wan, a tiny village with one restaurant, then climb the steps behind the kitchens. Don't turn right to Sok Kwu Wan, but keep walking around Tung O and other bays, past mangroves and swamps, empty sand-filled and deserted stone villages to Turtle Beach.
No.4 Cheung Chau Windsurf Beach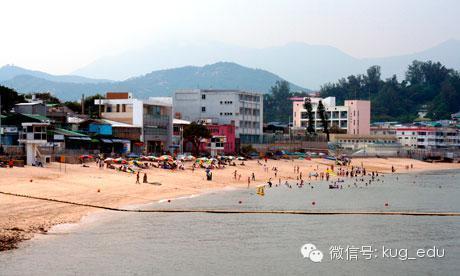 Cheung Chau island has at least three beaches – the main Tung Wan (East Bay) Beach is a long stretch of sand marred by cheap, short-stay accommodation (where many young Hong Kong couples go for a bit of intimacy), but at the other extreme is the deserted Italian Beach, or Pak Tso Wan, in a sheltered south-west cove with hidden rocks. In between, wind-whipped Windsurf Beach (Kwun Yam Wan) is the most fun, where a curving sand beach is open at the left for windsurfers and small boats to get in and out – Hong Kong's own and only Olympic gold medallist, Lee Lai-shan (aka San San), honed her windsurfing skills here to win at Atlanta in 1996.
• Ferries to Cheung Chau go frequently from the Central ferry piers and signs point through congested built-up areas around the harbour to the various beaches.
No.5 Hung Shing Yeh, Lamma Island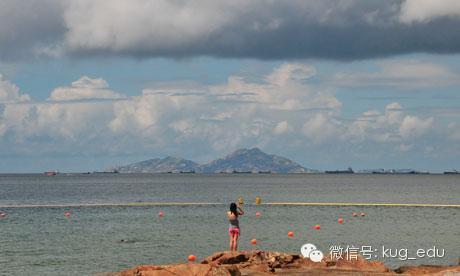 Lamma Island has several hidden and little-known, unsupervised beaches. Hung Shing Yeh is the largest, with changing rooms, rocky areas, volleyball nets and a restaurant and several stands selling beer and ice-cream. As with most Hong Kong beaches, a shark net is hung under an orange line of buoys which has the main benefit of keeping rubbish out and swimmers safely within the marked area – sharks are only rare visitors to Hong Kong. Lo So Shing Beach, with a backdrop of untouched Lamma Island hillsides, is further along the coast towards Sok Kwu Wan, and is considerably less frequented.
• Ferries from Central go frequently to Yung Shue Wan on Lamma Island, from where it takes about 25 minutes to walk to the beach.
No.6 Shek O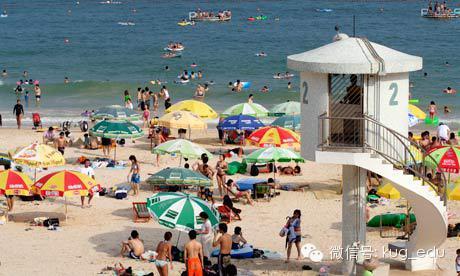 On a hot sunny day, reaching the fine golden sands of Shek O can be an obstacle course of inflatables, dinosaurs, supermen and footballs favoured by Hong Kong families eager to get the most from their day out. Much of this frantic activity, however, will be confined to the shore, and the determined sea-seeker will find a lot of it to spare. The beach is ringed by high rolling hills and dramatic drops, covered by Hong Kong's usual mix of shrubbery and trees, with rocks poking through the foliage. The settlement of Shek O itself combines the rustic charm of small village streets and huge mansions scattered over the verdant greens of the Shek O Country Club, owned by a handful of the richest and oldest trading families of the China coast. Lifeguards, shark nets and gentle rolling waves make this a popular beach.
• Take the MTR to Shau Kei Wan, take exit A3 and find the number 9 bus to Shek O. Or take a taxi.
No.7 Big Wave Bay
This is Hong Kong's only officially recognised surf beach (unlike the unofficial but usually better surf of Tai Long Wan in Sai Kung). Clean and scenic, this beach is separated from the more family-led fun of Shek O by two large headlands. Set in a deep cove with a backdrop of undeveloped green hills stretching as far inland as you can see, Big Wave started attracting an expatriate surfing scene of a hardy dozen or so people by the 1970s, but in recent years has become much more popular with Hong Kong surfers, drawn by waves whipped up by winds from both the north-west and east. The wind swells are consistent, but at weekends you'll be competing for them. There are also dangerous rips to be aware of – follow the locals' lead.
• Take the MTR to Shau Kei Wan, take exit A3 and find the number 9 bus to Shek O. Get off the bus at the junction of Big Wave Bay and Shek O Roads (on a sharp hairpin bend), and walk for 10 minutes.
No.8 Stanley and St Stephen's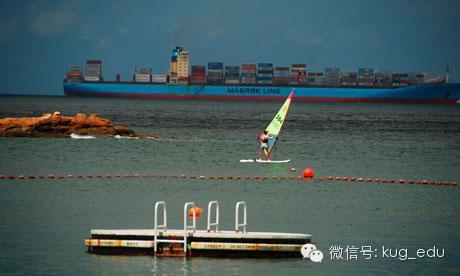 Stanley's main beach is on the other side of the isthmus to elegant Blake Pier (worth a stop to admire the black art nouveau pillars and tiled roof), and comes with excellent swimming areas and windsurfing conditions, even on bleak and rainy days when the cliff-ringed bays help whip up the breeze. The beaches of St Stephen's Bay, below the college of the same name, are much smaller, more peaceful and more focused on paddling, windsurfing and small boat sailing (and incidentally where expatriate prisoners of war were held for almost four years during the Japanese occupation of Hong Kong during the second world war).
• Many buses go to Stanley from Central (numbers 6, 6A, 260, 6X), from Tsim Sha Tsui (number 973) or from North Point (numbers 63, 65). Some will be marked as going to Stanley Fort, but best get off in the market area.
No.9 Repulse Bay and South Bay Beach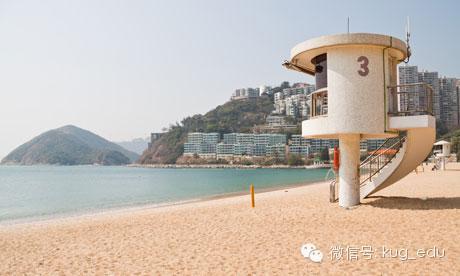 Repulse Bay looks almost too pretty swim in. The sands appear to be manicured, the trees as if they've been positioned to create an utterly orderly vista – which makes it a popular spot for tour groups (particularly from mainland China) to pose for photos before leaving again. All of which leaves the sea wide open for swimming. Beyond the shark net you'll spot waterskiers, and anyone who has watched the 1955 film Love is a Many-Splendored Thing will fantasise about recreating that swim across to the headland far out across the bay. South Bay Beach is more secluded, quiet and less trammelled, largely due to the one-mile walk to find it – along the South Bay Road via Middle Bay, another quiet, sandy, tree-fringed beach.
• Many buses go to Repulse Bay from Central (numbers 6, 6A, 260, 6X), from Causeway Bay and North Point (numbers 63, 65), or even from Tsim Sha Tsui on Kowloon side (number 973), marked to Stanley. It's easy to know when to get off – just get up when you see the tall blue apartment block with a big hole in it.
No.10 Deep Water Bay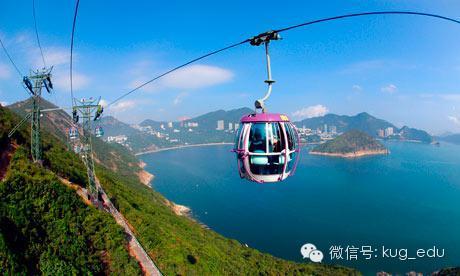 Overlooked by the tour groups, Deep Water Bay is home to a hardy crowd of early morning swimmers – mostly elderly Chinese locals renowned for stripping down in even the coldest weather for a daily dip. Weekends can get crowded here, with its views of the yacht club annexe on Middle Island and the cable car up and over to Ocean Park, but weekdays offer hidden delights of long quiet snoozes under the trees and unencumbered swimming. There's even a special lane within the shark net area so that casual daytrippers and youthful splashers don't get in the way of the tough ones who have fitness goals to reach.
• Bus numbers 6X and 260 goes to Deep Water Bay from Central. Also numbers 973, 63 and 65, as above.
Source:Hong Kong City Guide